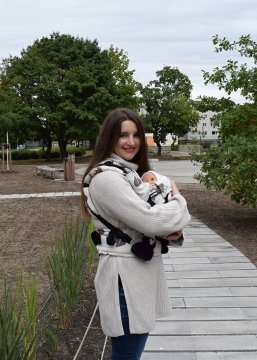 The MINI model was created as a smaller sibling to the well-known Newborn model and has also something from SIMPLE model.
Although the width of the backrest is very similar between the Newborn and MINI models, due to a different cut (and a lower backrest height), the MINI model is designed for babies approximately up to a year old.
It has the same waistband as the Newborn model, but the soft version has a 2 cm filling and is quilted differently (the option of a firm filling without quilting remains).
The backrest and its height adjustment are based on the SIMPLE model but are substantially smaller.
The top part of the backrest and the headrest section are filled with 1 cm foam padding. This upper part of the backrest helps reinforce it and provides support for the heads of small babies.
The shoulder straps are different from what you have been accustomed to with KiBi so far. They have a 2 cm filling, so they are not as "bulky," and they have longer padding, allowing mothers to comfortably wear them across their entire shoulders while still providing ample padding on the back.
The option to fasten the shoulder straps into the buckles on the waistband, which are sewn inside the "ears" that move along the waistband during the backrest width adjustment, is, of course, included.
Just like the Newborn model, the MINI model is only available in the wrap version, and drool pads for the carrier are a standard feature.